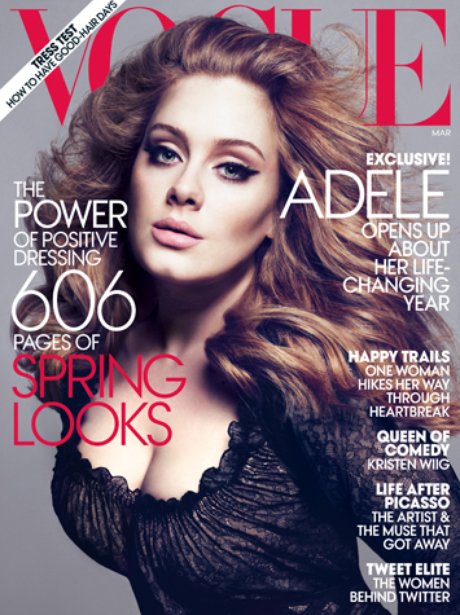 Fashion bible Vogue has declared that the days of the cleavage are over, replacing one gender stereotype with another, and setting the stage for women and girls with natural D-cups to feel conscious of their bodies next to those with a more humble bust line. Bravo. The evidence of obsession with this secondary sexual organ of women emerged around the time artists began to depict the original sin in paintings with Adam's member covered traditionally with a leaf, and, while Eve's primary private part is also covered with some form of foliage she is very commonly portrayed executing the extra task of covering her breasts with her arm. The implication here is that breasts are something to be ashamed of and thus should be hidden. Its primary role – being a source of nutrition for infants – is absurdly ignored to flaunt its other 'obvious' function – seduction.
 Oprah Winfrey is an American of African descent and her upper body is naturally built in the visible  proportion
While it sounds like an enlightenment long due (many women have been going under the knife for breast augmentation since the procedure was first performed in 1962) the problem lies in the fact that many women belonging to several races are naturally designed to develop larger breasts, and most of them are non-whites. Is this a warning bell for another level of racist put-down?
Since Vogue magazine was founded in the United States let's talk about the west's gradual change in perception of breasts over the years.
The Aphrodite of Knidos was one of the most famous works of the ancient Greek sculptor Praxiteles of Athens (4th century BC)
While the female form in the nude first appeared in the 4th century in ancient Greece, there was nothing erotic about it since it was the sculpture of a deity, and religion and sexual arousal, generally, don't go hand in hand. A few centuries later, Mary too was shown in paintings giving suck to Jesus. Nothing sexual about that either.
But somewhere down the line, parts that were seen most natural to the female human form became objects of contempt, a lure for sinning, and a feature that till date measures a woman's worth – if she has a small chest and is well covered, she is deemed to be intelligent and moral in her ways; if not, she is presumed to get her way with the world by implementing her sexuality.
                                In most of her paintings Elizabeth I is shown to have a man-like torso 
During the reign of Elizabeth I, women tended toward androgyny in clothing to pay homage to their queen who was doing a man's job, and by the 1990's women were emulating Pamela Anderson's ample assets to reach a contorted ideal of silicon beauty.
Undergoing breast augmentation is a painful process. Let's not push women to the surgeon's table again for breast reduction.
In fact, considering breasts as a unit to gauge beauty is a fine case of contradiction – models on the ramp, typically with B-cups, are accepted as paragons of beauty; the very same structure off the catwalk attracts derision.
                                                              Kate Moss is renowned for her petite structure
Breasts have been objectified to such an extent that even prestigious newspapers come under fire for allotting space on their page to display the cleavage of celebrities under the title of breaking news.
So when Vogue says the days of the cleavage are over, it is once again bringing focus back on that part of a woman's anatomy which has been the subject of centuries of scrutiny, establishing yet another standard for body image in the name of fashion.
Stop making a woman's breasts the nucleus of your concern. It is discomforting. It is humiliating. It is absolutely unnecessary.
What lies beneath a woman's bra is her and only her business.
Leave a comment!