Turning fifty is a big event in any person's life – and when it's a celebrity, it's more than just that individual's family and friends who celebrate. It draws the attention of an entire nation, and sometimes even that of international admirers.
Fifty years ago Indians were delighted by the birth (not biological) of a chubby cheeked, blue-haired and conspicuously noseless little girl whose hand painted pictures, before adorning strategically placed hoardings, appeared first pasted on lamp-posts in Mumbai. Gifted with an unmatched skill in using puns and an unabashed predilection for commenting on topics ranging from politics to sports to Bollywood, she still dons her signature polka-dot dress not giving tuppence to changing fashion trends.
I am, of course talking about the ever popular Amul girl. A mascot created to rival Amul's competitor – Polson's butter-girl – by Sylvester da Cunha, then the managing director of Advertising and Sales Promotion (ASP) and Eustace Fernandez, its art director, the Amul girl has become one the longest running ad campaigns in the world – and is more importantly the starkest celebration of the girl child in a country prone to misogyny.
But her tongue-in-cheek statements, generally balanced by her sheer cuteness, does make her the topic of controversies every now and then, and to be very honest it is quite a task to pick out the most sensational cartoons out of a humungous archive of more than 4000 features.
Still, to warm you up in your quest to find more such pieces here are a few examples of the numerous jibes the adorable moppet took which drew the ire of many –
1) In 2009 the infamous Satyam Computers corporate scam shook the Indian market, calling for better government regulations among corporates. At the centre of the scandal was Ramalinga Raju, founder-chairman of Satyam Computers, who confessed to the company's Rs.7,136 crore accounting fraud in the balance sheets.
The following ad brought Amul an incensed letter from the Satyam Board threatening that in act of protest, its employees would stop consuming the endorsed product.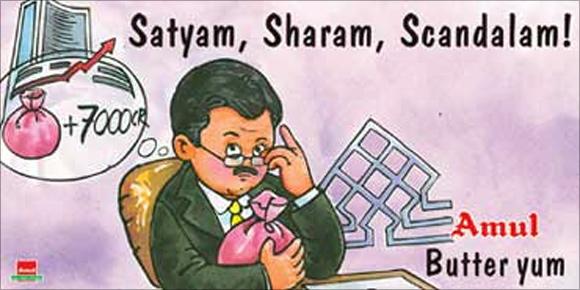 2) This one got Shiv Sena's goat, who said that the ad – Ganpati Bappa More Ghya (Ganpati Bappa take more), a play on the festival cry – if not removed, they would attack the ad agency's office.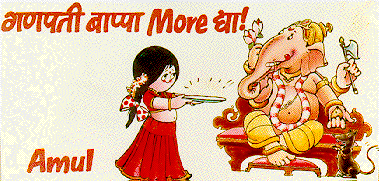 3) Air India has a history of agitated union members pressuring the managements to give in to their demands, some of which has included demanding pay revision and a change in the career progression pattern.
In 2001 Amul criticised another such strike in retaliation to which the airline threatened to stop offering Amul butter in its flights.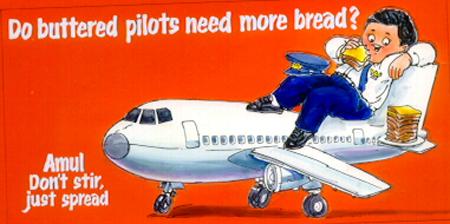 4) After his infamous exit from the BCCI amid a match-fixing scandal, Jagmohan Dalmiya tried to intimidate Amul over the following ad with an imminent lawsuit for 500 crore rupees but retracted when asked to deposit 10% of that amount.
5) These two cartoons were spin offs from ad campaigns of other brands – MR Coffee and Kama Sutra condoms, respectively. While it did not ruffle the feathers of the mentioned brands in any way, it did'nt go down with the mass either who found the visual depictions too racy for an ad campaign which was known for a more family-friendly approach.
6) Only a person who has had no experience of living in an orthodox society might have been slightly open to find the depiction of the mascot still represented primarily to be a child, next to the slogan "Indian virgin need no urgin", the term 'virgin' itself describing the grossly underage character based on the status of her sexuality.  The ad was a satire of the virginity test Indian women were subjected to by British immigration officials in the 1970s in London.
Whatever be its consequences, one thing that has remained unchallenged is the Amul butter girl's ability to entertain! In an age when we know that a newspaper has very less to offer but a barrage of bad news, we still find enough enthusiasm to flip through its pages, eager to see the cheeky cartoon character's quirky take on otherwise dismal issues.
P.S. : Look up a few lampooning political figures. Couldn't post those under duress from the sensitive type. Surprise.
Leave a comment!