Prison Break – India edition
While most criminals make news with their crime and subsequent arrest, there are also those who create a sensation with their escape from prison. It makes us question the efficiency of our law enforcers  and the state of our own safety in a world where criminals walk free, but it also, secretly puts us in awe of the guts these convicts show in challenging the very authorities that captured  them.
The news rooms and internet are currently abuzz with reports of the prison-break at the Bhopal Central Jail, and the following encounter at Eithkhedi that ended with the shooting down of eight SIMI operatives.
But this is definitely not the first instance of a jailbreak in India to brandish headlines of newspapers. Let us take a look at few precedents.
      1. Natwarlal
This name had to be first. With nothing bloody in his charge sheet, his exploits were pure genius if not thoroughly entertaining! Born in 1912 and died in 2009(speculated), he had a long and successful career as a conman, having sold the Taj Mahal   the Red Fort, the Rashtrapati Bhavan and even the Parliament House of India – wait for it – with all its 545 sitting members! Forgery was his forte – he replicated the signature of India's first president, Dr. Rajendra Prasad, in his presence –  not once, but five times!
Arrested 9 times, he managed to give the slip in every single event, the last time being taken into custody in 1996. At age 84 and frail, he asked for medical support from behind the bars and was consequently commissioned to be admitted to AIIMS. While two constables who were escorting him at the Delhi railway station were away for a few minutes, he once again made in his escape, never to be seen again. Bravo!
     2. Sher Singh Rana
A globe-trotting convict, Sher Singh Rana, also known as Pankaj Singh, escaped with the ease of a bureaucrat from India's Alkatraz – the Tihar jail. Put behind bars for murdering Phulan Devi, then a sitting member of the parliament who in turn had been a bandit who killed 22 individuals of the upper caste in late 1970s and early 1980s. How she became an MP can be pondered another day. For now let's focus on the daring of her assassin. While in Tihar jail, he was visited by an accomplice, Sandeep Thakur, thrice as his advocate and once as a friend. It was in 2004, during his fifth visit that he posed as a Delhi Armed Police officer with counterfeit documents for the deportation of Sher Singh to a court in Haridwar that the murderer flew the coup right from under the noses of the attendant guards. While he was absconding, he visited several destinations including, Bangladesh, Dubai, and Afghanistan, ticking off many boxes in his travel list.
     3. Bettiah Prison Break
Names like M.S. Dhoni, Sushant Singh Rajput, Imtiaz Ali, Manoj Bajpayee, and Prakash Jha has blurred the reputation of their home state, Bihar, to be a hub of criminal activity. The Bettiah prison break story will bring back all those memories with a vengeance. In 2002 eight prisoners convicted of crimes including rape, murder, kidnap, dacoity and narcotics smuggling, made their way to freedom from Bettiah divisional jail in Bihar's West Champaran district. They sawed through the rods of a ventilator cunningly using grease to mute the grating noise, and tied a towel, a shawl and a dhoti to make a rope and cross the 14 foot high boundary wall of the establishment. Unfortunately for one inmate, Mohan Shah, he could not cross the last hurdle and was recaptured by authorities.
      4. Jamui Jail Break
                                                                  An example of country-made explosive
In case the previous incident didn't remind you enough of Bihar's glorious history of crime, here is another one. In the very same year of the Bettiah jail break, another set of 11 prisoners broke out of the Jamui jail in Bihar, and this one was more violent than the other. The case was mainly pinned on the negligence of the constables – instead of locking the inmates up at 5pm the cells remained open till 8pm when the incident occurred. The prisoners first captured the constable on duty, Moti Mishra, at gunpoint and then exploded several country-made bombs before their escape, severely injuring the warden and a constable.
    5. Palayamkottai escape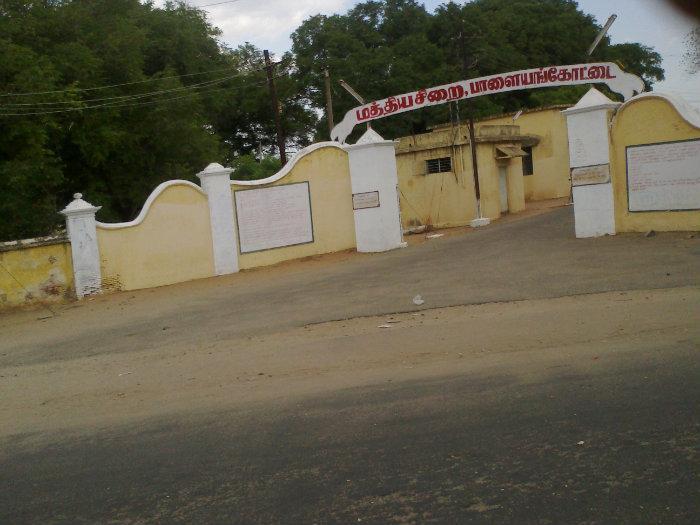 Palayamkottai Jail gate
Here is a story from down south. In 2003 six convicts tried to escape from the Palayamkottai Central jail in Tamil Nadu, in which three succeeded and the other three failed. The victorious three were Samraj, S. Murthy (both convicted of murder) and S. Charles, who was arrested for theft. Of the other three, one sustained a head injury on impact with the ground where upon he fell after being electrocuted from the wire on the boundary wall he was trying to cross. He later died. The company was previously lodged in a cell where they used a knife to bore a hole through the wall, then scaled the protective nine foot inner wall and even crossed the outer 14 foot wall, using an improvised rope made of bed sheets.
        6. Jagtar Singh Hawara
This fellow started his career young, having been convicted of murdering a Sikh priest at age 15, but was later acquitted. In 1995 Hawara was already a member of Babbar Khalsa International (BKI) and an activist of Khalistan Movement when he was accused of being a chief conspirator of the assassination of the 12th Chief Minister of Punjab. Restrained in Burail jail, he attempted to dig his way through the grounds but his efforts went to waste twice. It was the third time that he got lucky. In 2004, he, along with two other inmates, dug a 90 foot tunnel with bare hands which opened at a perilous point just 20 meters from the outer perimeter, and leading to their freedom.
       7. Charles Sobhraj
Some of you may already have an idea of the exploits of the 'bikini killer' from the Randeep Hooda starrer Main Aur Charles. A petty theft turned serial killer, his victims came from far and wide – India, Nepal, Thailand but mostly consisted of westerners in these regions. He was put in Tihar jail in 1976 on charges of stealing passports of 60 French tourists. Unfortunately for him, by the time he would have served his term in Tihar jail, he would be put into another in Thailand where he was scheduled to be extradited. To avoid that, he deliberately committed another crime – that of trying to make a run for it from the jail he was confined in, and be caught. However, when he did decide it was time to leave, he devised an ingenious plan – he distributed fruits and sweets laced with sleep-inducing drugs among the prison guards on the pretext of his birthday celebration. While they were out cold, Sobhraj, with panache, gave them the slip.
Leave a comment!